DAVID JOHNSON - A tribute to our founder.
Freedom From Fear was originally created by our founder David Johnson of the Freedom From Fear Counselling Centre in Auckland New Zealand.
David Johnson completely recovered from his own anxiety by following the teachings of the late great Dr Claire Weekes. Following his own recovery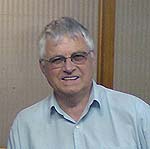 David founded his counselling centre from which he went on to show his clients how to find their way to recovery.
It was always apparent to David that the help that anxiety sufferers so desperately needed was not widely available. He wanted to ensure that as many people as possible had access to a practical program of recovery that worked. As a result David authored and recorded, in his own voice, the Freedom From Fear Recovery Program. He made the program available to sufferers through the Freedom From Fear website.
David then went on to create, as an accompaniment to the program, the Freedom From Fear Forum. The forum brought together sufferers from around the world who were all on the same recovery program and working towards complete recovery. It soon became apparent that the forum had its own life and personality. The forum was like no other anxiety forum because the members all knew that they were working towards recovery and that they had found the way to peace at last.
David became affectionately known as 'Teach'.
In 2010 it was agreed between David and the forum that a plan was needed to continue David's work and ensure that the as many people as possible could get access to David's program and the forum's support. As a result Anxiety Free International (AFI) was formed by some of the forum members and is responsible for running the Freedom From Fear Recovery Group you see today.
Once David recovered, which at the time of writing was 33+ years ago, he dedicated his life to helping others to overcome their terrible suffering.
From his home in Auckland he selflessly made himself available to sufferers around the world by telephone, email and skype.
When a new client would buy David's program and gain access to the forum, they would often be surprised to receive a telephone call from David, who would talk to them for as long as was needed to help them on their way.
David has made a great number of personal sacrifices to continue the work he has done. His dedication and selflessness have enabled many to recover and without his efforts the Freedom From Recovery Group could never have come into being in the first place.
To David, and his supportive wife Heather, we owe a great debt of love and gratitude for all that they have done. We also acknowledge all that they have had to do without to continue this work.
THANK YOU DAVID AND HEATHER.